DUOS
DUOS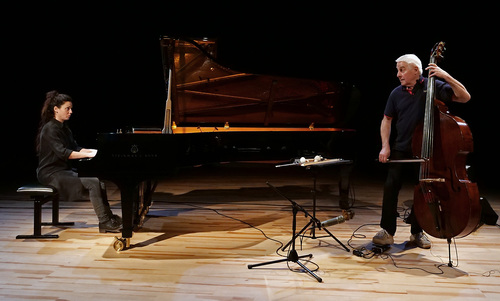 JORDINA MILLÀ piano
BARRY GUY double bass

CD: STRING FABLES
Fundacja Sluchaj! FSR 03/2022

www.sluchaj.bandcamp.com/album/string-fables


Barry has a long experience working in piano trios and piano bass duos: from Howard Riley Trio in the 1960s, through Ithaca Trio with Marilyn Crispell and Paul Lytton, to Aurora Trio with Agustí Fernández and Ramón López, or more recent trio with the phenomenal Japanese pianist, Izumi Kimura and Gerry Hemingway, also on Fundacja Słuchaj!.

The most impressive piano-bass duo of recent years are with Agustí Fernández, who is, in a sense, a mentor of Jordina. They both play improvised piano, they both played prepared piano, they both oscillate between abstraction and lyricism – yet the music of Jordina is completely different, completely original and absolutely not comparable to anything else. When I first listened to her debut album "Males herbes" (Sirulita), I wrote on the Facebook: "I experienced today a birth of a star, better to say a supernova." Indeed, Jordina grew up to become a legendary figure of Catalan scene immediately. Her way of tuning abstraction to sound lyrical is absolutely unique and uncompromising. In this sense she is an ideal partner to Barry, whose approach to the lyrical side of life is similar. Both of them can be extremely lyrical, sad and melancholic without any simplicity and any loss of abstract complexity.
String Fables is a masterpiece presentation of the joint concept of this music: lyrical abstraction/abstract lyricism. For me, this is one of the most beautiful piano-bass records of the century!"

(from the liner notes by Maciej Lewenstein)


Jazz Podium Review by Adam Olschewski

Jordina Millä / Barry Guy
Schwere Reiter, München, 25.Februar 2022

Zwei Meister:innen der Präparation entfalten sich hier imposant und vollauf. Von Barry Guy, mit seinem klappbaren Bass angereist, weiss man, dass er Improv und Präparation in einen seltenen Einklang bringen kann. Von Jordina Millà, einer Spanierin, neuerdings in München ansässig, wird das nicht jeder/jede wissen. Aber nur auf die Präpariermeisterschaft bei diesem Duo zu zielen, griffe zu kurz. Millà ist auch meisterhaft darin, ausgewogen Verfremdungseffekt und klassischen Tastengriff zueinander zu führen. (Die mit einem Klebeband gehemmten Saiten machen den Flügel zu einem Xylophon, postiert wie hinter einer Pappwand, die Akkorde hier: in Steno Abfolge; den schmalen Drones setzt Millà kumulierte Lyrik entgegen.) Guy lässt derweil die öfter zwischen die Basssaiten gesteckten Stöcke, einer von ihnen lang wie ein Erwachsenenbein, vibrieren, während er den Saiten selbst einen unaufhörlichen, doch nie übermotivierten Drall gibt, der in der sehr guten Raumakustik in Hirn und Unterleib gleichermassen fährt. Die Bogen - und Handschläge ober - wie unterhalb des Stegs, Guy guckt nicht nur da immer auf Millà (und sie auf ihn), dienen dem Zusammenhalt des fernharmonischen Miteinander. Was bei so einem spontanen Impuls-Austausch überrascht: Es überwiegen die elegischen Momente, die zu lauter dezenten Ereignissen werden. Und ebenso die Augenhöhe zwischen einer noch jungen Kraft, die in der Szene unbedingt nach vorne gehört, und einem scheinbar ewig-jungen Altmeister.





+ read more
- read less
---