About Maya Homburger
Maya Homburger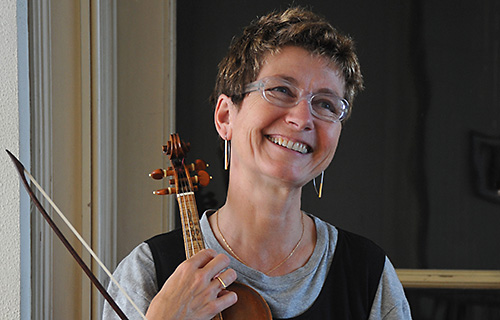 Born and educated in Zurich, Switzerland, Maya Homburger moved to England in 1986 to join John Eliot Gardiner's English Baroque Soloists, Trevor Pinnock's The English Concert and other period instrument groups. Concerts and Recordings as leader of the Chandos Baroque Players and founding her own Trio Virtuoso led her to specialise more and more in chamber music and solo performance. In 1993 she recorded the twelve fantasies for solo violin by G.Ph.Telemann and in 1995 the six sonatas for violin and harpsichord by J.S. Bach together with Malcolm Proud.

Ever since meeting the composer and solo bassist Barry Guy - on the occasion of an extended concert tour with Christopher Hogwood's Academy of Ancient Music in 1988 - she has devoted her time developing her own personal style on the baroque violin as well as managing the Barry Guy New Orchestra, the London Jazz Composers Orchestra and running her own CD label Maya Recordings.


The idea to perform baroque solo works in the context of free improvised music and newly commissioned pieces sparked off the Homburger/Guy Duo and together Maya Homburger and Barry Guy have given concerts in many major Jazz, New Music and Baroque Music Festivals all over Europe.
New works in her repertoire include Barry Guy's compositions Celebration, Inachis, Aglais and Lysandra for solo violin, Ceremony for violin and tape, Bubblets for violin and harpsichord and compositions for baroque violin and double bass, especially commissioned for the Homburger/Guy Duo from Buxton Orr, Roger Marsh and Giles Swayne.

In 1999 Maya Homburger organised her own music Series in Dublin called "Now and Then". In 2000 she was one of the leaders and soloists for J.E. Gardiner's Bach pilgrimage which took her to many of Europe's most beautiful cathedrals and churches where she performed in 52 Bach Cantatas.

Her speciality are performances of H.I.F. Biber's Mystery Sonatas as well as chamber music and cantatas by J.S.Bach.

After living in Ireland for nine years where they contributed both to the early as well as the contemporary music scene, they moved to Switzerland in 2006. The close connection to Ireland however remains : From 2011-2017 they organised their own music and art festival in Ireland : Barrow River Arts Festival (BRAF) and they perform regularly in various Irish festivals and concert series with the ensemble "Camerata Kilkenny".

Recordings include a. o. the Duo CDs "Ceremony" (ECM) and "Dakryon" (Maya Recordings). The recording of the complete set of H. I. F. Biber's (1644-1704) famous Mystery Sonatas for violin and basso continuo has also been released on the Maya Recordings label as well as a series of three solo violin CDs with J.S.Bach's Sonatas and Partitas BWV1001-1006 paired with Barry Guy's works for solo violin, called the "Butterfly Series" : "Inachis", "Aglais" and "Lysandra". Another ECM recording is "Folio" where she appears as violin soloist together with the Munich Chamber Orchestra. The latest Homburger/Guy Duo CD has appeared on the Intact Records Label and is called "Tales of Enchantment". She also appears together with the Barry Guy New Orchestra (BGNO) as soloist on the Intakt CD "Amphi" and in various recordings with the Blue Shroud Band.

Maya Homburger plays on three baroque violins which are all in original, historic condition: Antonio dalla Costa, Treviso 1740, Samuel Thompson, London 1720, Thomas Perry, 1780 Dublin. She also plays - with the baroque bow of course - on a beautiful modern violin built in 2020 by the German luthier Stefan-Peter Greiner.
+ read more
- read less
---